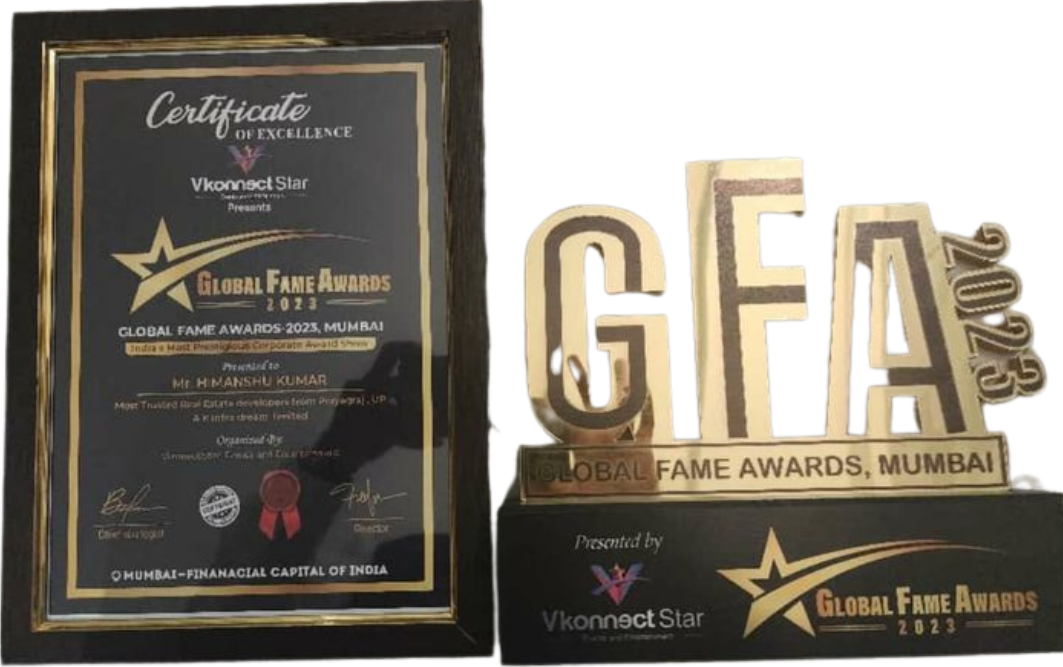 Global Fame Award Winner
28-02-2023
We are thrilled to announce that A K InfraDream Limited has been honored with the prestigious Global Fame Awards 2023 for the Most Trusted Real Estate Developer. This is a remarkable achievement for our company and a testament to our commitment to excellence, innovation, and customer satisfaction.
The Global Fame Awards are recognized as one of the most coveted awards in the industry, and winning this award is a true reflection of our hard work, dedication, and commitment to delivering exceptional real estate solutions to our customers. We are humbled to be recognized as the most trusted real estate developer and will continue to strive for excellence in everything we do.
Our success would not have been possible without the unwavering support and trust of our customers, stakeholders, and team members. We thank each and every one of them for their contribution to this significant achievement. We would also like to extend our gratitude to the esteemed panel of judges who recognized our efforts and awarded us with this honor.
As a leading real estate developer, we understand the importance of building trust and credibility with our customers. This recognition is a testament to our unwavering commitment to delivering high-quality real estate solutions that meet the needs of our customers. We will continue to uphold our values of integrity, transparency, and customer-centricity, and strive to exceed expectations with every project we undertake.
In conclusion, winning the Global Fame Awards 2023 for the Most Trusted Real Estate Developer is a proud moment for us, and we are excited to continue our journey of delivering exceptional real estate solutions to our customers. We remain committed to building lasting relationships with our customers and stakeholders and to upholding the trust they have placed in us.
Uttar Pradesh Anmol Ratna Awards
25-07-2023
We are immensely proud to announce that our company has been honored with the prestigious Uttar Pradesh Anmol Ratna Award 2023. The award was presented to our esteemed Managing Director, Mr. Himanshu Kumar, by the Honorable Central Minister, Mr. Nitin Gadkari Sir, in recognition of our unwavering dedication and outstanding contributions to our industry.
This accolade serves as a testament to our team's relentless pursuit of excellence and commitment to delivering top-notch products/services to our valued customers. It is an honor to be recognized at such a prominent platform and inspires us to continue striving for greater heights.
We extend our heartfelt gratitude to all our stakeholders, clients, and employees whose support and hard work have made this achievement possible. This award fuels our motivation to keep pushing boundaries, innovating, and making a positive impact in the lives of people we serve.